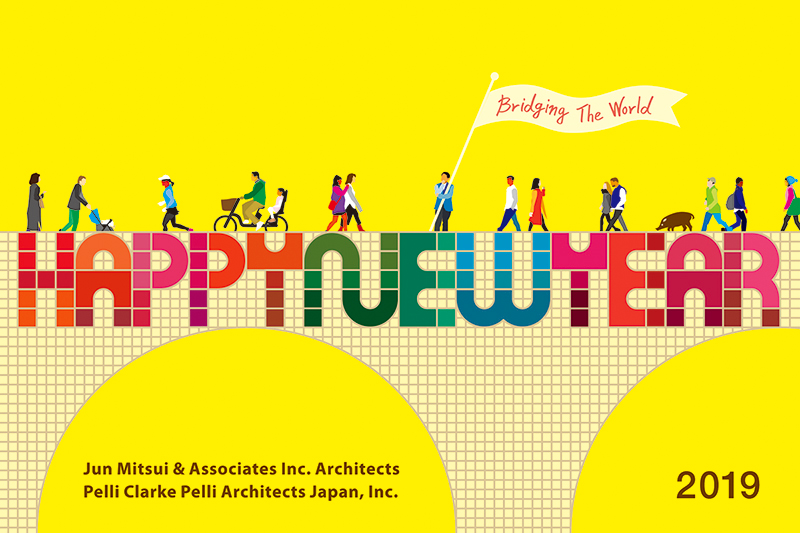 A Happy New Year and Best wishes to you for the year of 2019!
Japan will soon host the 2020 Tokyo Olympic/Paralympic and even more we had an announcement of Osaka hosting the 2025 World Exposition. The numbers of inbound tourism are increasing at an incredible rate by the strong influences by these events. In 2018, the inbound tourist number exceeded 30 million. We are now facing a very precious opportunity to ask ourselves what can Japan do for the world and what actions should we be taking.
We have been engaging in the design profession by creating good cities and architecture. Coming up with exciting ideas, forms, and spaces to solve design requirements are our tools to contribute to our clients and society. Through achieving our clients' visions and dreams who commission us anywhere in the world, we believe we can make people happy and make society peaceful by our multi-disciplinary design skills.
This year we are adding "Mono-Koto Design" section to our firm. We have already been intensively working on urban-design, architectural design, landscape design, and Interior design to integrate our living space to be seamless and continuous as a whole. Now we believe the design discipline which creates connections between people and objects such as benches, canopies, signs, lighting fixtures and other product designs are going to complete the relationships among people, architecture and urban space.
In our design profession, mastering "the creative imagination towards others" is essential. In 2019 we are committed to probing after this creative design mind for people with Japanese sensitivity and design achievements that would make people feel happy and peaceful all over the world.
I sincerely hope that we continuously gain support from all of you and I wish you all the best in 2019.
7th January, 2019
Jun Mitsui AIA, JIA
Jun Mitsui & Associates Inc. Architects
Pelli Clarke Pelli Architects Japan, Inc.