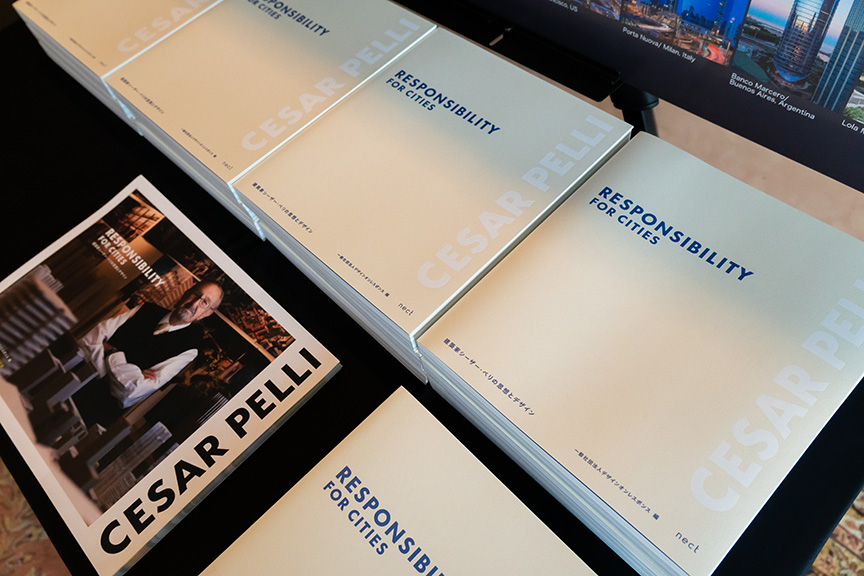 On Friday, July 7, 2023, a multidimensional event to celebrate the friendship between Argentina and Japan on the 125th Anniversary of the establishment of diplomatic relations, "Building Bridges between Argentina and Japan," was held at the official residence of the Embassy of the Argentine Republic in Motoazabu, Tokyo.
In this multidimensional event, featured the work of Cesar Pelli, an architect born and raised in Argentina who has designed many landmarks in Japan and other cities around the world.
At the event, Ambassador Extraordinary and Plenipotentiary Mr. Eduardo Tempone congratulated the two countries on the friendship between them and the publication of this book, which builds a bridge between the two countries.
Also, the movie "Cesar Pelli, Young Architect" (subtitled in Japanese), directed by Argentinean film director Mr. Miguel Rodriguez Arias, who wrote the forward to this book, was also screened at the event.
This book, produced with the cooperation of the Embassy of the Argentine Republic in Japan, is now on sale at the following direct sales website and Amazon!
【Direct sales website】
https://nectediting.theshop.jp/
『RESPONSIBILITY FOR CITIES』
JMA/PC&PJ was involved in the publication as "Editorial Cooperation," " Japanese Translation of Cesar Pelli Quote," and "Production Cooperation".
In addition, "Design on Response Association", a general incorporated association sponsored by JMA, has edited this publication.
Mr. Jun Mitsui, President and CEO, was honored for his significant contribution to Japan-Argentina friendship through the production of this book and other activities.

Mr. Fred W. Clark, partner of PC&P, came from the U.S. and gave a speech about Cesar Pelli.